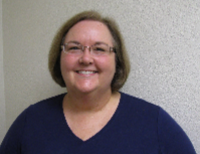 Candi has been a valuable member of our team since 1994. She grew up loving animals, participating in 4-H, and showing horses. She graduated from Cal Poly with a bachelor's degree in animal science and has been working in the veterinary field for over 25 years.
Although she primarily works in our office, Candi is also works as our Saturday receptionist, places our prescription diet orders, and helps out the rest of our staff wherever else she is needed.
Her large heart has led her to adopt multiple rescues. Jake the cat was just a few weeks old when he was found on Stenner Creek Animal Hospital's doorstep. Karma, a border collie and lab mix, was bottle raised by Candi from birth, and Angel Cat was found in a parking lot with a fractured pelvis.
Outside of work, Candi loves spending her free time listening to music and going to concerts, reading, traveling, and keeping up with her extended family on Facebook.