Going out of town? Have your furry friends spend the
night with us! Staying at a veterinary office means that your pet is well cared for and under the watchful eye of our staff members.
We offer the following services while boarding: 
Exercise program
Medicating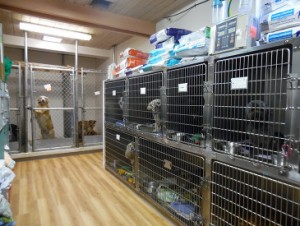 Nail trims
Express anal sacs
Vaccinations
Boarding Requirements:
All dogs must be current on:
DHPP
Rabies
Bordetella
Veterinary Approved Flea Control
All cats must be current on:
FVRCP
Rabies
Veterinary Approved Flea Control
If your pet is not up to date on vaccines or a veterinary approved flea control, we will perform these services on the day of arrival for boarding.
We provide bedding and dishes for your pet to use, as well as Hill's Science Diet and Royal Canin maintenance diets. Many clients prefer to keep pets on their regular diet when they board. If you choose to bring food, label it with your pet's name, feeding instructions, and let us know what brand it is. If your pet is on puppy/kitten food or a prescription diet, please bring it with you! This applies to medications as well. Please bring enough food and medication to last at least 1-2 days beyond their expected stay with us, just in case you are delayed in your travels.
While your pet stays with us we are more than happy to groom them so that your pet comes home nice a clean for you! If they also need vaccines updated during their stay, we can perform those for you!