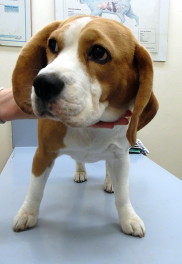 Apple, an adorable Beagle, came to see us a few months ago to be artificially inseminated. After multiple attempts, Apple finally became pregnant! One morning in February our staff was called into the office early because she was in labor! After being in labor all night, Apple's owners brought her in to see Dr. O'Reilly to make sure everything was okay.
During the exam Dr. O'Reilly found that the first puppy was stuck in the birth canal so we quickly took Apple back to try to help her get the puppy out. Sadly, this puppy had been stuck for too long and did not survive. After this we started giving Apple medications to help her deliver the other 5 puppies. After about 3 hours with no success, Dr. O'Reilly decided it was time for an emergency cesarean section.
Apple was taken into surgery and our staff helped her deliver 5 puppies!
One of the 5 puppies required CPR to start his heart and get him to breath. After 45 minutes of trying to help the puppy breath, the puppy was determined deceased.
The other 4 puppies were reunited with mom as soon as she was ready for them and they all immediately started suckling on her. Mom and the 4 puppies went home later that day!
About 4 days later, one of the weaker puppies passed away at home, but now at about 2 weeks old Apple has 3 healthy puppies and is taking very good care of them! The family plans to keep one and give the others to family and friends.
Newborn and newly revived pups w/ their mom, and the puppies at 3 weeks old getting checked out: