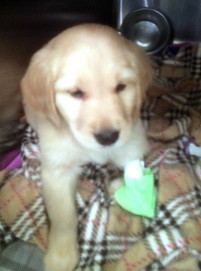 Rocky came into our office as an Emergency at the end of November. An adorable 10 week old yellow lab who was lethargic, weak, vomiting and having diarrhea. Rocky was one of 11 in his litter from Oakhurst, California, and was adopted young. He had his first DHPP vaccine 3 days prior to his visit. The mother had stopped nursing her puppies at 5.5 weeks old and unfortunately they did not have their immune system fully ready for the real world. All of the puppies came down with Parvo. Lucky for Rocky, his new owners brought him into our hospital as soon as they noticed that he wasn't feeling well and we worked on him right away. After running blood tests and fecal tests, as well as a Parvo test, we confirmed that Rocky had Parvo. Rocky spent the next several days in our isolation ward receiving intensive medical treatment including fluids, antibiotics, anti-nausea medication, plasma, and Hetastarch to help him regain his strength and fight off the disease. Our staff gave him lots of love and attention to help him feel safe and comfortable as he tried to get better. Unfortunately, not all of his litter mates made it through. They were cared for by the breeder and sadly 3 of Rocky's siblings did not make it. Luckily, this little guy fought for his life, and with the help of our Doctor and staff, it paid off. Rocky went home to his new family after four long days in the hospital.
Rocky has returned to continue with updating his vaccines and is getting bigger and stronger every day. We are so happy for Rocky that he found a loving family and look forward to seeing him grow up.
We wanted to share Rocky's story with you to remind you the importance of keeping puppies at home until they are fully vaccinated, and how important it is to keep your pets up to date on all their vaccines. Parvo can affect any dog of any age, not just puppies, so it is really important to make sure they stay current on vaccines. Even if your dog never leaves their yard, flies can carry Parvo from one yard to another. So all dogs should be vaccinated against it.