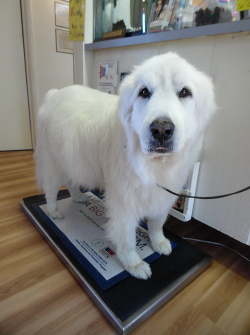 Bubba is a big affectionate Great Pyrenees who was brought to us by his caring dog sitter, Francie. Bubba had been staying at her house for a while and had a distended abdomen, was slow, easily tired, and having chronic diarrhea. During his initial exam, Dr. O'Reilly noticed that Bubba had an irregular heart beat and his heart rate was drastically elevated. Due to these findings, Dr. O'Reilly recommended an ECG and x-rays be taken as soon as possible. Knowing that this could be a serious problem, Francie, his dog sitter, agreed to have these tests run. It was lucky for Bubba that Francie loved him so much to take care of him because this big loving boy had some big problems. After performing an ECG, consulting with the best canine cardiologists, taking chest x-rays, and having a cardiac ultrasound with performed, we found that Bubba had an extremely large heart and that he had a lot of peritoneal fluid filling his abdomen. Bubba was in congestive heart failure, had an abnormal heartbeat, and disease of his heart muscles.
We quickly got started treating Bubba with medications to decrease the fluid in his abdomen and to correct his irregular, rapid heartbeat. After a few days of hospitalization, Bubba went back to Francie's house on the beach. He left 20 lbs lighter, due to the loss of all the extra fluid, and with a lot more energy. Francie says he now runs on the beach, has much more stamina, and seems a lot happier. Bubba returned for his recheck and immediately jumped out of the car and ran inside to his kennel in the back ready to get his love from our staff. We are so glad to have helped this sweet boy with a big personality.
Unfortunately, Bubba's owner is unwilling to care for him and has given him up. Francie loves him so much that she agreed to care for him until he could find his forever home. If you are interested in adopting or fostering Bubba, or donating to help support Bubba's medical bills, please let our staff know and we will put you in contact with Francie.