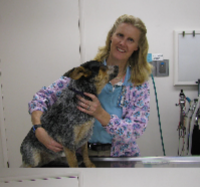 Erin is the floor supervisor and staff coordinator here at Stenner Creek Animal Hospital. She began her career as a 4-H All Star, then went on to receive her bachelor's degree in animal science at California State University at Fresno. She has spent the last 20 years as a registered veterinary technician.
Erin is passionate about helping your pets live a long and healthy life. Because she believes so strongly in passing on her knowledge, she spends time training our pre-vet staff so that they are prepared to move forward with their veterinary studies when they graduate from Cal Poly.
Outside of caring for animals, Erin is active with Grace Bible Church in Arroyo Grande, is a leader for Dog Care and Vet Science at the Huasna Valley 4-H Club, and helps design and build sets for the Pismo Beach Youth Theater.