Stenner Creek In Our Community
El Chorro Dog Park 14th Anniversary
October 11th our staff went out to El Chorro Dog Park for their 14th Anniversary Party! We had a great time with our own dogs, as well as many of our clients!
Karma Rescue
Karma Rescue is a rescue based in Los Angeles, California. They created a program, Paws for Life which gives dogs a second chance at life by taking them to prisons for a 6 week training course. After the training the dogs are up for adoption. Stenner Creek Animal Hospital provides the veterinary care for the Karma dogs that are placed in San Luis Obispo County prisons.
Here are a few of Karma Rescue's Paw for Life dogs who we have helped: Click on their pictures to see their adoption pages!
Chihuahuas de Mayo
Our staff attended Chihuahuas de Mayo at Woods Humane Society to bring awareness to the overpopulated breeds at the shelter like chihuahuas and pit bulls! We enjoyed the music, a costume contest, a Chihuahua race, a doggie splash zone, food and more! In addition we say many rescue organizations for all different breeds who brought adoptable pets to the event! Kirra, one of our tech's dogs LOVED the splash zone! Here she is with some of her new friends in one of the splash pools! Can't wait for next year!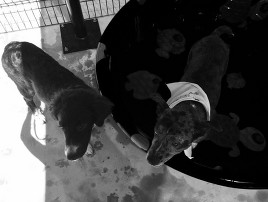 Woods Wine 4 Paws
April 9th and 10th, 2016 Wine 4 Paws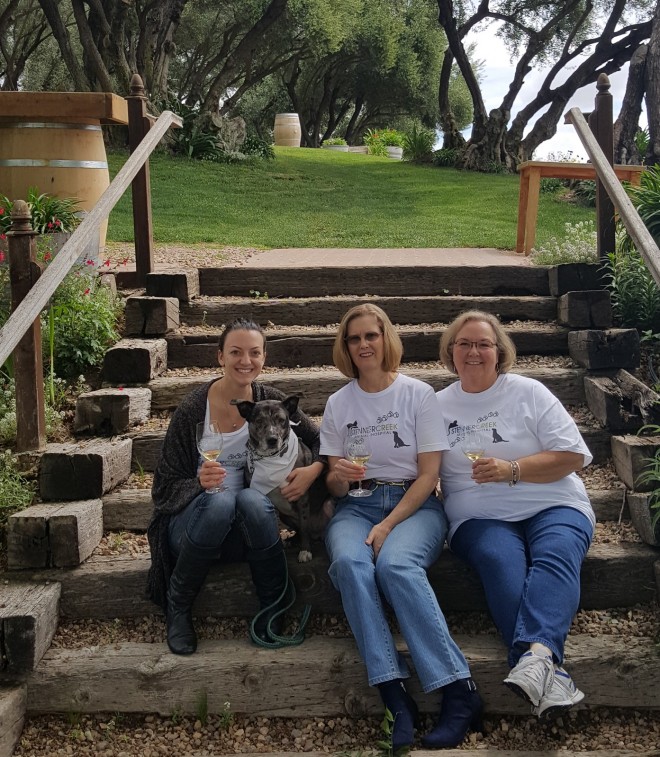 April 25th and 26th, 2015 at Wine 4 Paws. This event benefits Woods Humane Society. Our staff, friends, clients, and patients attended the event.
Working with Edna 4-H Members
Stenner Creek Animal Hospital volunteers time and its facility to share veterinary experiences with the members of Edna 4-H Vet Science Project. Project leader, Erin D., teaches health care, disease treatment, diagnostic equipment, surgical preparedness and emergency treatments. In addition, she takes the group on field trips throughout the year.
Cal Poly
In addition to the numerous Cal Poly Animal Science students who have worked at our hospital and gone onto vet school, Stenner Creek also works with Cal Poly's Vet Science Club and has donated many informational packets for their Farmer's Market booth. The packets included various treat samples for dogs, information on dental cleaning, and offered a free dental exam in our office.